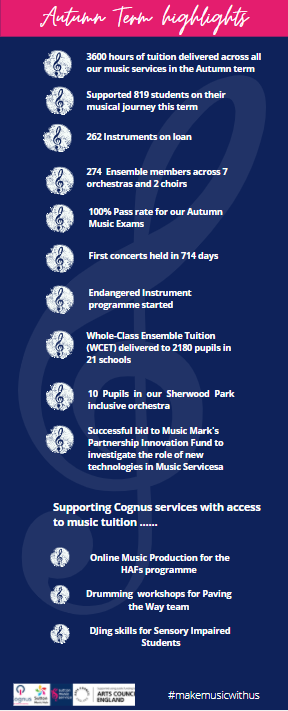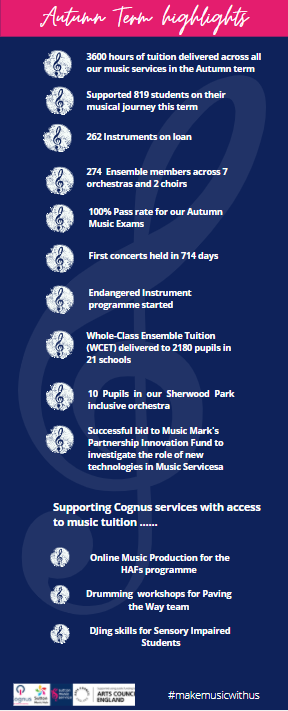 It has been a fantastic autumn term for the music service, and we are delighted to be helping so many children and young people continue their musical journey.
The three concerts that we held in November were great highlights. The Young Musicians Orchestra (YMO) and Sutton Youth Symphony Orchestra (SYSO) performance on Friday 26th November was our first concert for 714 days and was a joyous occasion for all involved. It was so lovely to hear live music with an audience and for our students to receive their applause.  The Ensembles have provided the opportunity for the members to play alongside their fellow musicians again and has been a huge boost to their confidence and morale. 

Sleigh Ride – Sutton Youth Symphony Orchestra

Sutton Youth Training Band – Apache
Sutton Youth Wind Orchestra – Samba
Congratulations to all our students who recently took their ABRSM and Trinity practical music exams at our new offices in Wallington. Both examiners were very complimentary of the students who took part, and the exam results were fantastic with a 100% pass rate.
Music lessons have continued face to face in schools and our Music Academy and we are seeing a dramatic increase in applications to receive tuition. 

The infographic below shows some highlights for the term, and we have also worked successfully with the Cognus Services to give access to music tuition. 
#MakeMusicWithUs