At Sutton Music Trust, we want our students to be able to celebrate their successes and work as part of a team to perform high-quality concerts.
Our Summer Concert Week showcased the talents of all our students in our bands, orchestras, and choirs, performing to capacity audiences at St Andrew's Church in Cheam.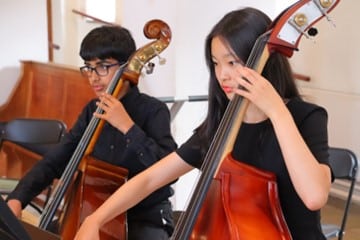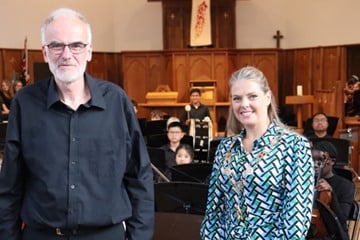 Spring Concert Week opened on Monday, 3rd July, with performances from our junior orchestras and our choirs. This concert included combined performances of the Sutton Young Singers (SYS) and Sutton Youth Choir (SYC) – who performed 'Somewhere Only We Know', and the Young Musicians Training Orchestra (YMTO) and the Young Musicians String Group (YMSG), who gave a rousing performance inspired by a Cha-Cha!
We were honoured to be joined by the Deputy Mayor of the London Borough of Sutton, Councillor Louise Phelan, who met David Brooker, conductor of YMTO.
Our next concert saw performances from the Sutton Youth Training Band (SYTB), the Sutton Youth Symphonic Band (SYSB), and the Sutton Youth Wind Orchestra (SYWO). This concert was a great showcase of how students progress through our ensembles and included a spectacular performance from SYWO of 'Sing, Sing, Sing', with Sophie playing the solo clarinet part to rapturous applause.
At this concert, we were delighted to be joined by The Worshipful the Mayor of the London Borough of Sutton, Councillor Colin Stears, who met with Roger Willey (Conductor, SYWO) and offered kind words before the group's performance at the Music for Youth National Festival in Birmingham later that week.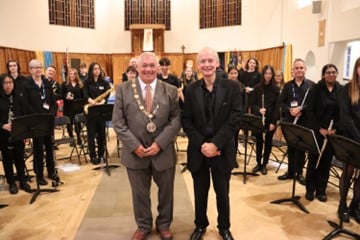 Our final concert showcased our senior orchestras alongside the Sutton Community Choir's (SCC) second-ever performance. The Young Musicians Orchestra (YMO) and Sutton Youth Symphony Orchestra (SYSO) performed a programme with the theme of 'Heroes and Villains', including pieces such as the theme from 'Batman' and 'Danse Macabre' with soloist Candice Liu.
The concert ended with an orchestra of over 90 musicians playing 'Themes from 007', the result of an academic year of dedication by our students and tutor team.