In our previous article, The Importance of Music Provision within the Early Years, we highlighted the importance of music in EYFS and how it prepares a child's ear, voice and brain for language. One of the ways it does this is by developing listening skills, which are vital for developing children's literacy.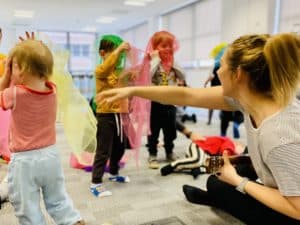 As well as being an essential social skill, listening supports literacy by:
So, what role does music play in developing listening skills?
It only takes one read-through of Development Matters to notice how much music and singing feature in the literacy chapter (as well as featuring heavily in the Expressive Arts and Design section).
Exposing a child to music and musical experiences increases their learning capacity; studies have shown that music can actually accelerate the rate at which the brain develops. When children listen to music, their brains learn to separate meaningful sounds from incidental and nonessential sounds.
Listening to and then singing songs are the perfect way for a child to learn the rhythm of language and practice pronunciation skills. Songs and rhymes also match the rhythms and tones of language and expose children to the sound components that make up words.
Resources, ideas, and activities
Sound Connections has a London Early Years Music Network featuring articles and ideas. Music Activities in Development Matters provides musical activities that can be delivered in line with the chapters in Development Matters. Activities include:

Emphasising the sounds at the beginning of words, e.g. shshshshadow
When singing or saying rhymes, talk about the similarities in rhyming words.

Musical Statues / Musical Chairs: These games are great for auditory discrimination as children must listen carefully to the change from sound to silence.
Play What's that sound? Show a child two instruments (percussion or tuned) and let them hear what they sound like. Hide the instruments from view and play one of them again. Can the child identify which one made the sound?
Create opportunities for active listening to live or recorded music in your setting. Encourage children to march or dance to the music – can they follow the beat? You can talk about how it makes you feel with slightly older children.
What can Early Years settings do?
#MakeMusicWithUs
#CognusAndProud