Sutton Music Trust is proud to provide opportunities for its students to access large-scale and high-quality musical experiences at home and abroad. SMT students in year 8 and above were allowed to attend the 2023 Music Tour and at the end of July, 55 students and six staff members went on a successful six-day tour to the Rhineland, Germany.
Two ensembles went on the tour (an orchestra and a band), allowing a wide range of instrumentalists to participate and perform music across a range of genres, styles and composers in three concerts. Pupils watched each other perform and provided a warm and supportive audience, especially for students with solo features. A standout moment on the tour was at our final concert in a church in the historic medieval town of Monschau. The audience grew so much that they spilt out the front door and were keen to find out if the concert would be an annual event.
When they weren't performing, the pupils also got to see the historic sites of the Rhineland; this included a river cruise in Cologne and a cable car trip in Koblenz.
We also bid a fond thank you and farewell to the eight Year 13 students leaving the service. Some have been learning with us since primary school and have worked their way through all SMT's ensembles. They were exceptional role models on the tour to the younger students, and we wish them well in all their future endeavours.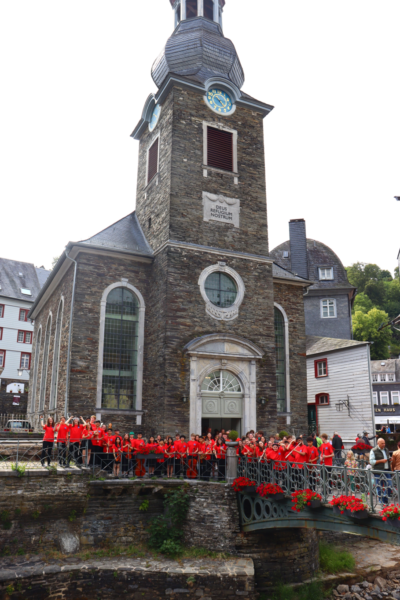 During the six-day tour, we saw new friendships grow, and existing friendships strengthen. Students came home feeling more confident (and tired), and we look forward to seeing them all again when Ensemble rehearsals restart in September.
Our music tours are open to students in Year 9 and above. Details of our July 2023 tour will be released when our rehearsals resume in September. If you want to join one of our youth music groups or know somebody who would, you can find out more here.
Sutton Music Service has a comprehensive progression route of orchestras, bands and choirs that can cater for students who have only been learning for one to two terms through to those who are Grade 8 and beyond. We welcome any young person to come and #MakeMusicWithUs in a friendly and exciting environment.
#MakeMusicWithUs
#CognusAndProud