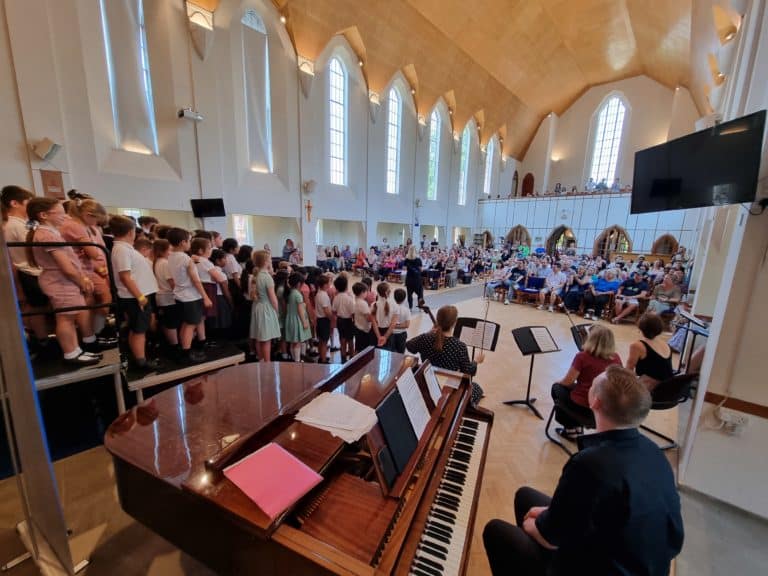 Sutton Music Trust believes that all children and young people should have access to high-quality musical experiences and have the opportunity to learn from a wide variety of professional musicians. Through our hub partnership with the Royal Opera House, singers in Sutton had the opportunity to share the stage with professional singers.
Over 360 Key Stage 2 singers from Sutton share the stage with artists from the Royal Opera House.
On Tuesday, 13th June, Sutton Music Trust was joined by 12 KS2 choirs from Sutton primary schools, two guest artists and a chamber orchestra from the Royal Opera House for our KS2 Big Sing 'Magical Music' at St. Andrew's United Reformed Church. Our concerts featured a varied programme of songs linked to our theme, ranging from 'Supercalifragilisticexpialidocious!' to 'Dragons Everywhere!' as well as a massed choir performance of specially arranged arias from Mozart's 'The Magic Flute'.
To prepare for our concerts, our schools had the opportunity to receive a full day of training with a stage director and chorus master from the ROH, satellite rehearsals led by highly skilled ROH practitioners, as well as support from them at our concerts. The arias the choirs performed were taken from the ROH's 'Create & Sing' project. 'Create & Sing' is a National flagship programme for schools that supports teachers in developing children's singing, drama and storytelling skills – and it is recommended in the new National Plan for Music Education.
This project was offered partially subsidised as part of the Sutton Music Hub singing programme, supported using public funding from Arts Council England. In addition, free CPD, resources, and support from performing artists have been funded by the Royal Opera House.