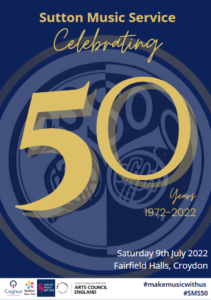 Sutton Music Service – Celebrating 50 Years !!
The Sutton Schools Orchestra was founded in January 1972 to encourage young musicians to participate in and enjoy making music. In the years since it has developed into the Sutton Music Service that we know today. 
To celebrate our Golden Jubilee, Sutton Music Service are presenting two celebratory concerts at the Fairfield Halls in Croydon on Saturday 9th July – these concerts will be a chance to see each of our flagship orchestras, bands, and choirs perform a wide range of old favourites and original pieces. 
2pm: Young Musicians String Group, Sutton Youth Training Band, Sutton Youth Symphonic Band, Sutton Youth Wind Orchestra. 
7pm: Young Musicians Training Orchestra, Sutton Young Singers, Sutton Youth Choir, Young Musicians Orchestra, Sutton Youth Symphony Orchestra. 
Our young people, tutors, conductors, and staff are working extremely hard to put together what will be fantastic live performances.
If you would like to reserve tickets for these concerts please click here
We look forward to welcoming you to our celebration! 
For more information about the history of Sutton Music Service, visit the 'About Us' page on our website here
#SMS50 #makemusicwithus