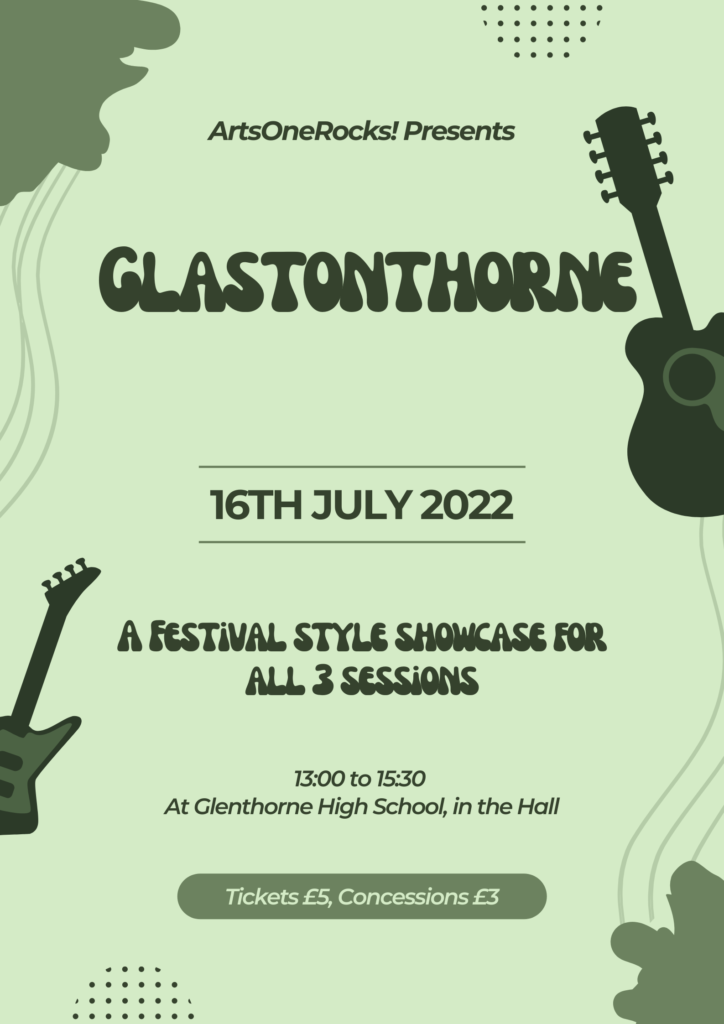 The Sutton Music Hub works to support opportunities for all young people across the borough to get involved with music-making. We know that different types of music touch people in different ways, so we engage with and celebrate all forms of music and all abilities. Music is music! ArtsOne Rocks! is a longstanding Sutton Music Hub partner that does fantastic work with young people who want to play contemporary musical genres.
Glastonthorne is ArtsOneRocks! annual summer showcase with a festival-style to it, and it's happening on Saturday the 16th of July this year, in Glenthorne High School's main hall. Glastonthorne will include performances from pupils in year 2(!) all the way to year 13, and this is an excellent opportunity for you to see what songs they have been learning each week and get a taste of why the students love it so much. 
ArtsOneRocks! has, much like everyone, had a tough time for the last few years. This year, however, is the first year in two that we have made it through the whole academic year without any disruption. Because of that, this year's Glastonthorne is set to be the biggest for a while. We are excited to showcase all the students' talents and the musical skills they have developed this past year. 
ArtsOne Rocks! gives young contemporary musicians the opportunity to enhance their instrumental technique, develop performance skills and build a network of other young people passionate about rock and pop music. Each week students learn a new song, which may be a classic song from the 1950s, a song that is currently in the charts or anything in between.
Find out more here.
#makemusicwithus