The National Plan for Music Education (NPME) calls for children to have the opportunity to learn an instrument through Whole-Class Ensemble Teaching (WCET) and that it should be a key part of the school's curricular music offer. During 2022/23, Sutton Music Trust worked with over 2300 pupils in 23 schools across the borough to give them the experience of learning an instrument for a whole academic year.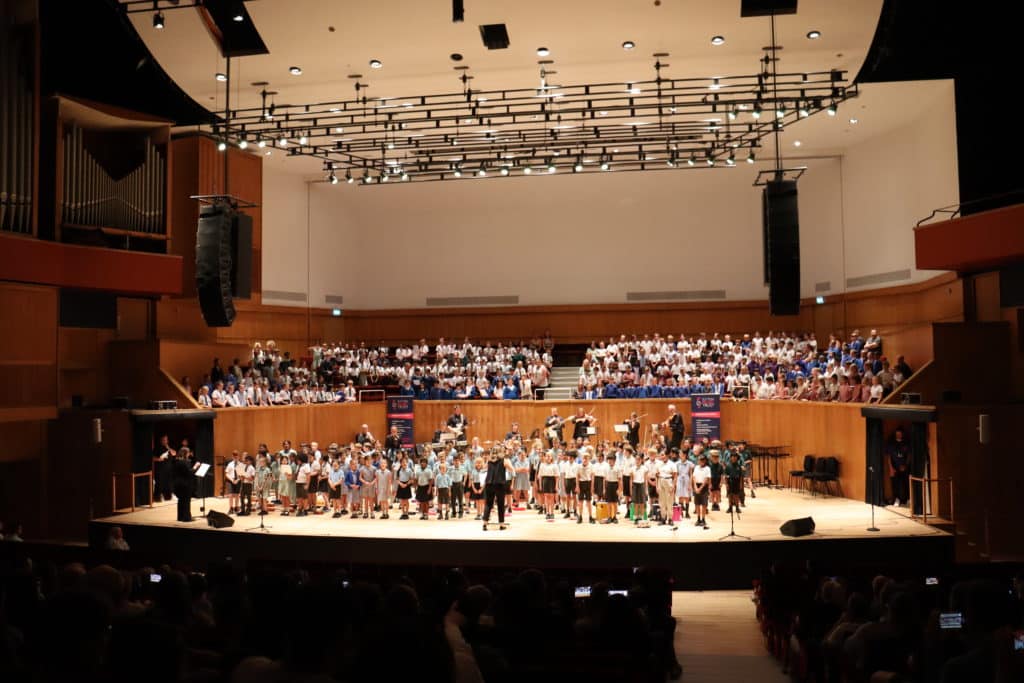 On Tuesday, 27th June, Sutton Music Trust hosted its annual Key Stage 2 Instrumental Festival at the Fairfield Halls in Croydon. Over 400 pupils from 15 Sutton Primary schools performed on the Pheonix Concert Hall stage to share and celebrate their learning over the year. Each school has focused on learning a specific instrument or combination of instruments since September 2022: the ukulele, violins and cellos, trumpets and baritones, trumpets and trombones, and samba percussion. Sutton Music Trust has also delivered Music Production Lessons to almost 600 upper KS2 pupils in four primary schools. To celebrate this, drum and bass compositions by pupils from Avenue Primary were played during the concert interval. Some of our schools also participated in a body percussion workshop led by our Hub Partner, Inspire-Works.
The concert concluded with a massed choir performance of Let Love Shine Through by Emily Barden. This inspirational and upbeat song was about diversity and individuality and the importance of celebrating what makes us all unique. The song was accompanied by a live house band which consisted of Sutton Music Trust tutors.
The event was a fantastic celebration of the pupils' hard work and enjoyment of making music. For most pupils, it was their first trip to the Fairfield Halls, and their experience of performing on the stage in front of an amazing audience of over 600 is something they will remember for a long time.
A very well done to all of the pupils that took part.
#MakeMusicWithUs
#CognusAndProud