Students from Sutton Music Service were thrilled to perform for the fans at Sutton United football club. Sharing their love of music with the local community was a fantastic experience and something we hope to do more of in the future.
Sutton Youth Wind Orchestra (SYWO) members performed at the VBS Community Stadium on Gander Green Lane for Sutton United's home game against Crewe Alexandra on Saturday 4th, March. This game marked the 125th anniversary of the club and had nearly 5,000 fans in attendance. The musicians played on the pitch before the game and during half-time, receiving rapturous applause from those present.
The club's Chief Commercial Officer, Ed Marsh, invited Sutton Music Service to perform to build links with other borough organisations and further enhance the already fantastic atmosphere at games.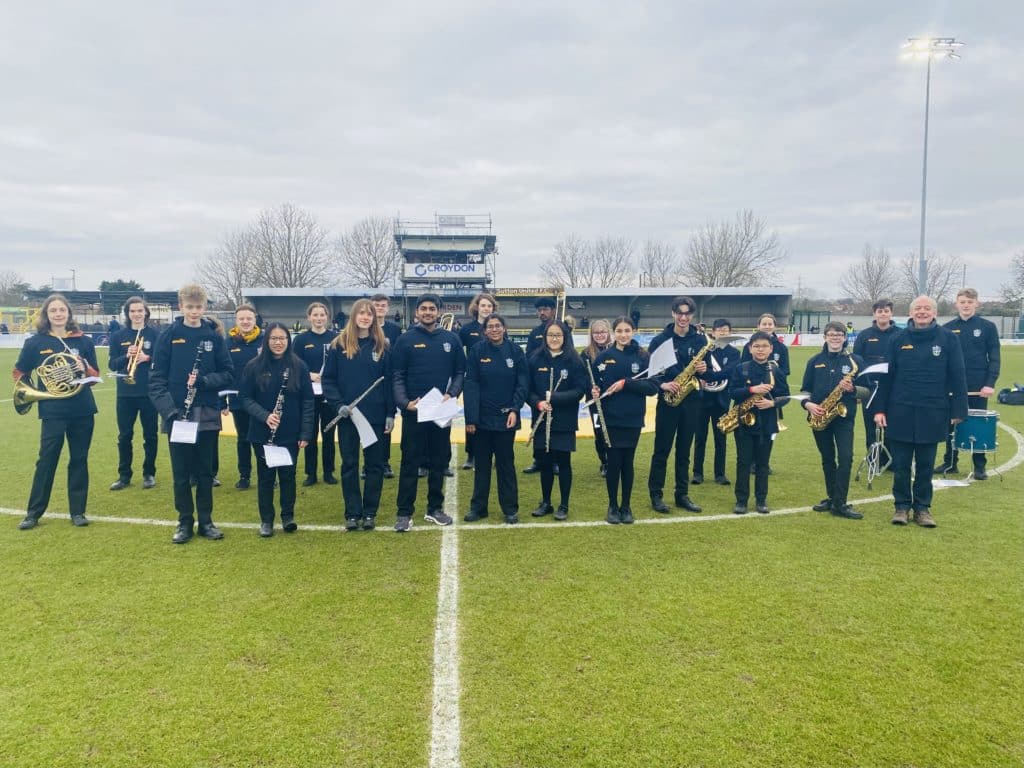 All the students had a great time becoming "Amber Brass" for the afternoon and enjoyed cheering on the club from the stands during the match. We hope to identify more dates when Sutton Music Service can perform again at home games.
Sutton Music Service runs a range of orchestras, bands, and choirs open to young people across the borough and beyond. You can learn more about what we do here and apply to join here – Begin – Sutton Music Service.
Sutton Music Service strives to help every young person in the London Borough of Sutton to make, be inspired by and to celebrate the music that they love.
#makemusicwithus
#cognusandproud