Music Industry Masterclasses News
In January, we were pleased to host a series of Music Industry Masterclasses in partnership with the London College of Creative Media (LCCM).
The sessions covered songwriting, music production, developing a social media presence, and artist management. LCCM's expert lecturers delivered the sessions, giving an insight into these topics and their importance to young people looking to start a career within the Music Industry. Over 45 young people from across the borough joined us for the masterclasses, all of whom are studying music and looking to develop their skills and knowledge. This response far exceeded our expectations.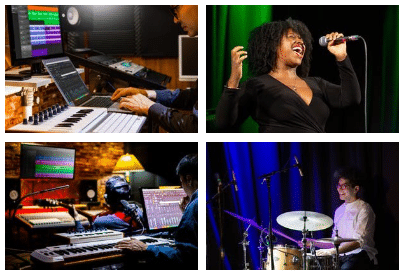 Sutton Music Service is committed to finding ways of working with as many children and young people as possible. As a result of COVID-19, online workshops have become standard practice and allowed us to reach groups that would have been difficult to work with before. These masterclasses have been a fantastic way to support the students' artistic and career aspirations and gave us lots of confidence for developing a much more comprehensive activity plan for the future.
Sutton's Up-and-Coming Songwriters
The masterclass series allowed us to know the students and find out more about their current music-making. Here is a couple of examples of some of the student's current work:
'Am I Too Late'
by Emmie Avery
'Keep on Fighting – A song for the NHS'
by Aryana
What the students thought...
We had some great feedback from the students and cannot wait to run more of these sessions in the future.  We are already planning follow-up masterclasses for the summer term, and we are developing a strategy to support our young songwriters across the borough – watch this space!
"It was really nice to hear it from someone else, especially from someone who plays many instruments and talks about their personal experiences as well as what you could do."

"Good tips – gives you somethings to think about. Cool to see someone else's perspective and how they go about writing music."

"I found it very interesting learning about DAW's and how to use reverb and compression."

"Lot's of good tips on building a social media presence, and the presenter was very friendly."