In March 2023, the Sutton Youth Wind Orchestra (SYWO) performed at Sutton's Music for Youth (MfY) Regional Festival, where they were described as "ambassadors of live music" by the MfY Music Mentor. As a result of this, SYWO were invited to play at the MfY National Festival, held on Friday, 7th and Saturday, 8th July in Birmingham. SYWO were selected to perform on the stage at the prestigious Birmingham Symphony Hall.
SYWO rehearsed each week to provide a varied programme which included pieces ranging from 'Birdland' to 'Soul Bossa Nova'.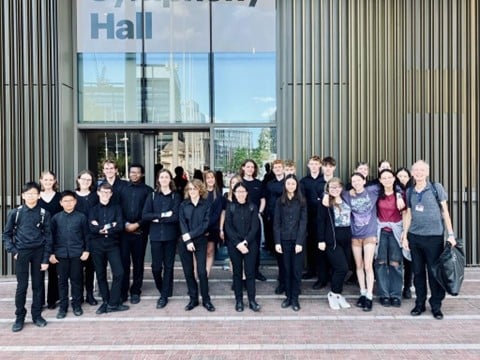 Watch the video below to see SYWO's performance of 'Sing, Sing, Sing' at the Birmingham Symphony Hall!
Do you want to perform as part of Sutton's next Music for Youth Regional Festival on Saturday 16th March 2024. Express your interest via suttonmusictrust@cognus.org.uk
Interested in joining one of our bands, orchestras, or choirs? Sign up for a FREE trial session in the week of 25th September here: https://forms.office.com/e/x69Fu0XMdg  
#MakeMusicWithUs
#CognusAndProud